!! Must See !! Regard philosophique sur les sciences et technologies
Publié le 18 Octobre 2014
!! Vraiment interessant !! BigData, IPS, Neuro-Science, Mind-upload, Internet, IA, PMA, Cybernetic, Exosquelettes, Transhumanisme, etc... tout y passe (entre les lignes).
Un clin d'oeil en prime....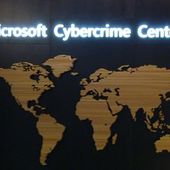 Big data analytics key to crime fighting, says Microsoft
Big data analytics is increasingly playing a role in the fight against cyber crime, according to Bryan Hurd, director of advanced analytics at Microsoft's Digital Crimes Unit (DCU). "Big data ...
http://www.computerweekly.com/news/2240216325/Big-data-analytics-key-to-crime-fighting-says-Microsoft